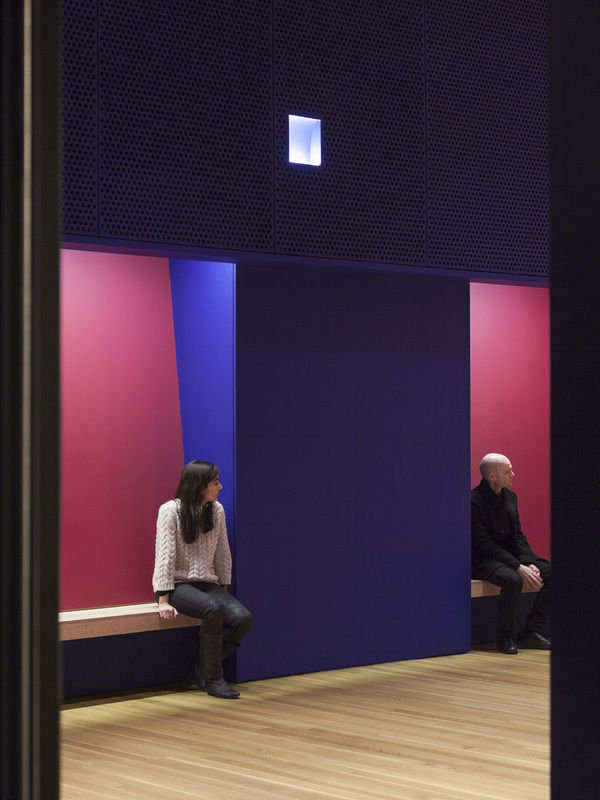 The National Opera Center
LOCATION
New York, NY
COMPLETED
2012
CLIENT
Opera America
AREA
17,500 sq ft
AWARDS
AIA New York Design Excellence Award
OPERA America is the national organization for the opera community, with a membership of over 150 opera companies. It is dedicated to the creation, presentation, and enjoyment of opera. The brief for the National Opera Center, their headquarters in New York City, included a collaborative working and audition facility for its member companies, as well as rehearsal studios, conference facilities, a library for recordings, scores, and publications, and administrative spaces. The Center also serves professional and aspiring musicians beyond the opera community.
The National Opera Center is located in midtown Manhattan on two floors in a former garment trade building. Floor slabs were removed to provide properly scaled double height spaces. Acoustical isolation and box within box construction were employed to sufficiently isolate the spaces from each other, and to screen the ambient noise and vibration of the city. A recording facility was designed and provided to complement the audition and main rehearsal spaces.
The Center is accessible and flexible, allowing for musicians, ensembles, and companies to access a high quality, focused and serene working environment within the City. The range of programming within the center fosters a collaborative and synthetic approach toward the development of talent and productions.